Tailings Disposal Methods
In the early days of the tailings dry discharge technology, full tail concentration-pressure filtration (filtration) is the main process.Although this process has obvious advantages over traditional tailings storage, a large number of problems have been found in the application process, including high one-time investment, high operating cost and large floor area.

In order to solve these problems, the research institutes have developed a tailings grading dehydration-concentration dry discharge process based on the tailings treatment direction and the goal of efficiently achieving complete dry discharge of tailings.
Tailings grading dehydration-concentration dry discharge process is mainly composed of hydrocyclone, dewatering screen, rake-free high-efficiency thickener and slurry conveying device.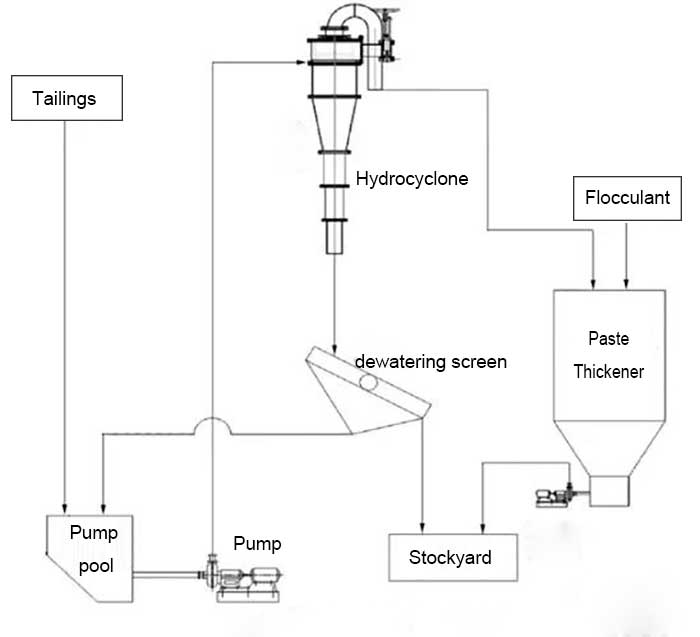 Tailings slurry of the concentrator is pumped from the plant area to the pump tank of the tailings dry discharge system, and then transported to the hydrocyclone by feeding pump.
After classifying, the bottom flow of the cyclone is discharged into the dewatering screen. The upper material of the screen is stored as coarse tailings, and the lower material of the screen is returned to the pump tank to form a closed circuit; The overflow of the cyclone flows into the high-efficiency thickener, and the high concentration discharged by the paste thickener.
Tailings can be directly processed to building materials or further dewatered by filter press according to site requirements; clarified water can be pumped back to the backwater tank of the thickener.
Main equipments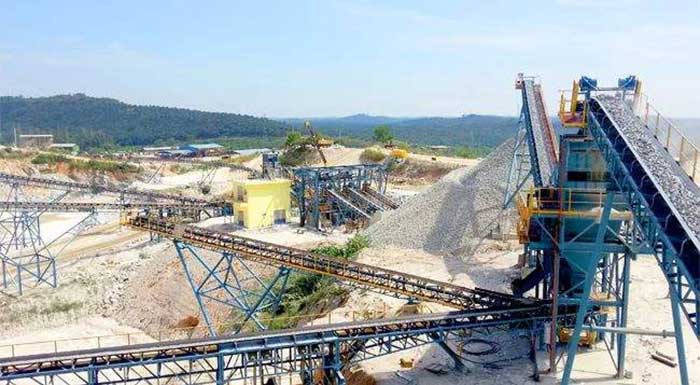 1.Multistage Hydrocyclone
High efficiency hydrocyclone has high underflow concentration, high yield, fine classification particle size and high classification efficiency. Compared with conventional cyclone, its separation particle size can be 20%-30% finer.
2.High efficiency paste thickener
High efficiency paste thickener differs from traditional enrichment equipment in that it has no rake rack, large height-diameter ratio, simple structure, small occupied area, high enrichment efficiency and easy maintenance, especially for the enrichment of fine tailings.
This tailings disposal method solve the problem of efficient dewatering of fine and fine tailings and opens up a new way to promote the comprehensive utilization of tailings, which has been successfully applied in many mines.