Polyurethane Screen Panel | Features & Benefits
Polyurethane screen panel is a kind of mesh screening medium produced with polyurethane as raw material. Polyurethane screen panel is suitable for vibrating screen in metallurgy, coal, chemical industry, construction and many other industries, and mainly used for fine screening of bulk materials.



According to the structure of polyurethane screen panel, it can be divided into four types:
mosaic

bolted connection

pressing bar connection

screen hook connection
Mesh Aperture: seam, rectangle, circle, square.
Application Industry: coal preparation plant, coking plant, mine, power plant, river dredging, etc.
Features & Benefits of Polyurethane Screen Panel
1. Long Service Life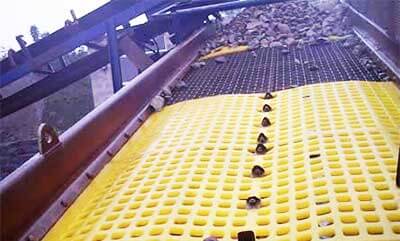 Polyurethane has very high elastic modulus, high impact absorption and high wear resistance, so it has high tensile strength, and its bearing capacity is more than 2.5 times that of rubber screen panel.
The service life of polyurethane screen panel is 8-10 times longer than that of ordinary metal screen panel, 3 times that of stainless steel screen panel and 3.9 times that of natural rubber. It is the best sieve material with the best wear resistance in the world.
2. High Screening Efficiency
Polyurethane screen surface has self-cleaning performance, no pore plugging and high screening efficiency. Because of its strong water permeability and large cone angle of sieve pore (140 °), polyurethane can effectively prevent the adhesion of wet fine particles, so it is suitable for the screening and classifying of wet fine materials.
3. Wide Range of Application
It is suitable for any type of vibrating screen and can be customized. Polyurethane screen plate can be used for screening all kinds of materials in 0.1mm-170mm.
4. High Screening Accuracy
The polyurethane screen panel adopts mold casting molding technology, the mesh aperture design is reasonable, the pore diameter is accurate, the screening quality is high, and the particle size of the material under the screen can well meet the requirements of users.Polyurethane screen panel has the advantages of simple installation, convenient replacement and maintenance, and light weight, so it is an ideal screening medium.
5. Low Noise At Work
According to the actual measurement, the use of polyurethane screen panel in the same screen machine can reduce the noise by 5-20 decibels compared with metal screen panel, and greatly reduce the flying dust.
6. Remarkable Economic Benefits
The unit price of polyurethane screen panel is 2-3 times that of metal screen panel. However, considering the screening efficiency, maintenance cost, service life and other factors, the overall benefit of polyurethane screen panels are much better than that of ordinary metal screen plates.
Technical Parameters of Polyurethane Screen Panels